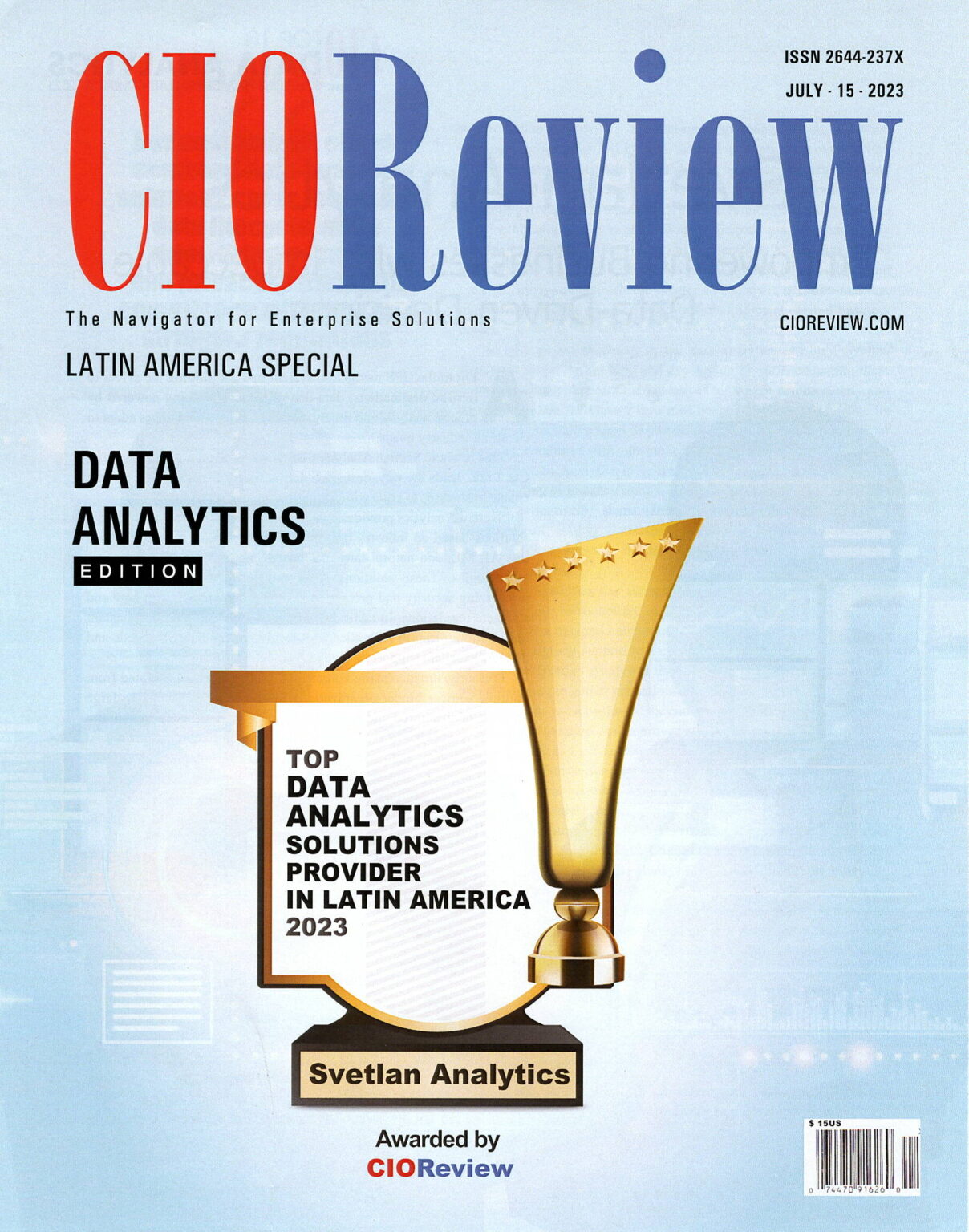 Empowering Businesses with Impeccable Data-Driven Decisions
Akin to the GPS navigation system in a car guiding the driver to desired destinations, data-driven decision-making powered by precise analysis and timely insights can help businesses adapt to changing industry needs.
This is where Svetlan Analytics, a division of Svetlanross Consulting Cia. Ltda., leads the way, designing digital transformation solutions that enable businesses to cope with ever-evolving market changes.
Svetlan Analytics provides customized, client-centered data analysis solutions based on industry best practices and innovative technologies like Al, ML, and natural language processing, among other emerging technologies. These solutions cover the entire data lifecycle while prioritizing security and privacy to maintain compliance with new and stringent regulations. In addition, Svetlan Analytics maintains constant open communication with clients to deeply understand their needs and delivers excellent support services.
Presently, the increasing volume and variety of data generated from multiple sources hinder organizations from effectively managing large volumes of structured and unstructured datasets. Further compounding this issue is the lack of data analysis skillsets, which creates organizational silos that put data quality at risk, restrict real-time analysis, and hinder data privacy and security.
Svetlan Analytics mitigates these challenges using cloud storage, big data, and scalable data processing solutions proven to reliably manage and process large data volumes. It also provides advanced tools for extract, transform, and load (ETL) and application programming interface (API)-related tasks to integrate data from multiple sources in a compatible format. In addition, Svetlan Analytics emphasizes leveraging impactful data cleansing techniques to improve quality before evaluations while its on line ML and real-time data processing capabilities support powerful analyses.
To address the skill gap in the data analytics industry, Svetlan Analytics invests in training and developing its staff, educating them to use data visualizations and narratives to present results clearly and accessibly while facilitating informed decision-making for clients. Its young and innovative team of professionals that promotes a culture of creativity, combined with constant collaboration with external experts, enables Svetlan Analytics to deliver unique insights backed by a deep understanding of industry trends.
Successes like this highlight the detailed approach to data handling that supports Svetlan Analytics' clients across various settings in effective decision-making and subsequent business success. It becomes a client's ears in the market and the brain that enables them to design or adjust their strategies to market or customer demands. The combination of adaptability, innovation, wide geographical footprint, and strong corporate values positions Svetlan Analytics as a multi-regional leader in social listening and data analytics.
"El equipo de Svetlan Analytics nos ha dado el mejor soporte tecnológico para saber las necesidades de nuestros consumidores"
"El desarrollo de un chatbot de noticias, ha permitido que nuestros clientes, se mantengan al día de los hechos mas relevantes de nuestra industria"
"El dasarrollo de tableros de BI nos ha permitido tomar decisiones estratégicas de forma agil. Hemos maximizado el uso de nuestra información que antes estaba sin utilizarse"

Ayudamos a las empresas a extraer el valor de los datos diseñando el camino en su transformación digital, de manera que tomen decisiones a partir de los insights extraídos de la combinación de sus propios datos y de datos externos.
Eugenio Espejo 2410, Vía Tanda.
Centro de Negocios Plaza del Rancho
Bloque 1, Oficinas 101-102
Código postal: 170530
Quito – Ecuador
Telf.: +593 2 4528068
Copyright © 2022 Svetlan Analytics. All rights reserved.